SEO is short for "search engine optimization". Sounds kind of fancy right? Well it is. In fact, it's one of the best magic tricks the internet has to offer for businesses looking to connect with the right people at the right time.
SEO works by optimizing your Dealer website so when people search for products or services related to your business on search engines like Google, your Dealer website shows up and ranks near the top of the page.
There are many ways to optimize your online presence to make it easier for search engines to find and rank you. SEO activities like adding relevant search keywords, creating quality content and implementing structured data are activities on your Dealer website that can help with SEO, but activities outside your Dealer website like adding your business to local listings (google my business) and having your content be linked on high quality sites can also increase your popularity on searches.
Why is SEO so important?
Everybody wants to show up more often on search engines but to do this you have to put the work in. You can pay for search ads that work instantly but as soon as you stop paying, your results will stop too. SEO traffic, on the other hand, is cumulative. Working on it can take weeks or months to get a higher rank and generate traffic. Eventually though, your SEO efforts will generate organic traffic even when you're not actively working on it.
How does SEO increase my traffic?
The more keywords you have that match the keywords your potential customers are plunking into a Google search, the greater chance they will see your business in the search results. Also, the more relevant your content is to the search, the higher you'll show up on the rankings. This is super important because the click through rate of the first link on the first page is 28.5% and the 10th is 2.5%.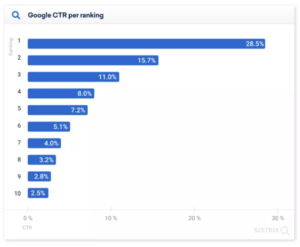 Another advantage to working on your SEO is that organic web traffic has been known to outperform other sources of traffic including paid. According to Enquisite, a web analytics company that focuses on search, "For every 1 click on a paid search result, the organic results generate 8.5 clicks (this is on a keyword parity basis, not counting those search results that have no paid ads)"
What you can do to work on your SEO
On your Dealer website:
Add more relevant keywords into existing pages
Create more content and landing pages relevant to the search terms of your customer. For example:

SUV's under 30K
SUV's in (local area)
Trucks in (local area)
Used vehicles under ($$)
Off of your Dealer website:
Local Listings

Google My Business, Yelp, and other local directories help a lot. The more you are on these types of sites, the more search engines will come across your name. This increases the chance that people looking for help from experts like you, will come across your business.
Shared Links

Similar to local listings. Having your links on many other sites, such as news sites, blogs and other social channels will increase the chances that your business will get attention.
SEO…the long game.
Good SEO requires time and patience but the benefits are worth it. Knowing how to get your brand, Dealer website and inventory found by your customers is essential in today's fast paced, competitive market. Working with an experienced digital marketer who understands SEO can help increase the optimization of your online presence. Leadbox's SEO Services uses a blend of technology, content marketing, and tested SEO tactics to help search engines find and organize your website.