The Leadbox core website team is excited to announce the latest release of the Leadbox website platform!
This release includes:
A New SRP filter
Finance and Lease Details in the Vehicle cards
User customizable content above the Call to Actions and pricing on the VDP
Let's take a look!
New SRP Filter
Inspired by many eCommerce sites, the new SRP filter layout allows shoppers to see all the options they've selected in easy-to-see bubbles.
This new filter layout reduces the vertical screen real estate take-up by the filter allowing more vehicles to be seen before scrolling.
Additionally, the selection bubbles give the shopper an instant indication of what they've already selected so they can easily navigate your inventory.
This new filter is available to all dealers enhanced website packages. Please speak to your account representative or support should you want to switch your website's inventory filter to this.
Finance and Lease Details in the Vehicle cards
Previously only available on the VDP, the Finance and Lease calculations are available on the vehicle card on the SRP. This allows the shopper to see payment details before going to the VDP.
Currently available for 'Vehicle Card 1' layouts.
User customizable content above the Call to Actions and Pricing on the VDP
Dealers can now add content above and below the pricing and call to action areas on the VDP. This is very useful to add blanket content across all VDPs to promote dealership-wide incentives or branding.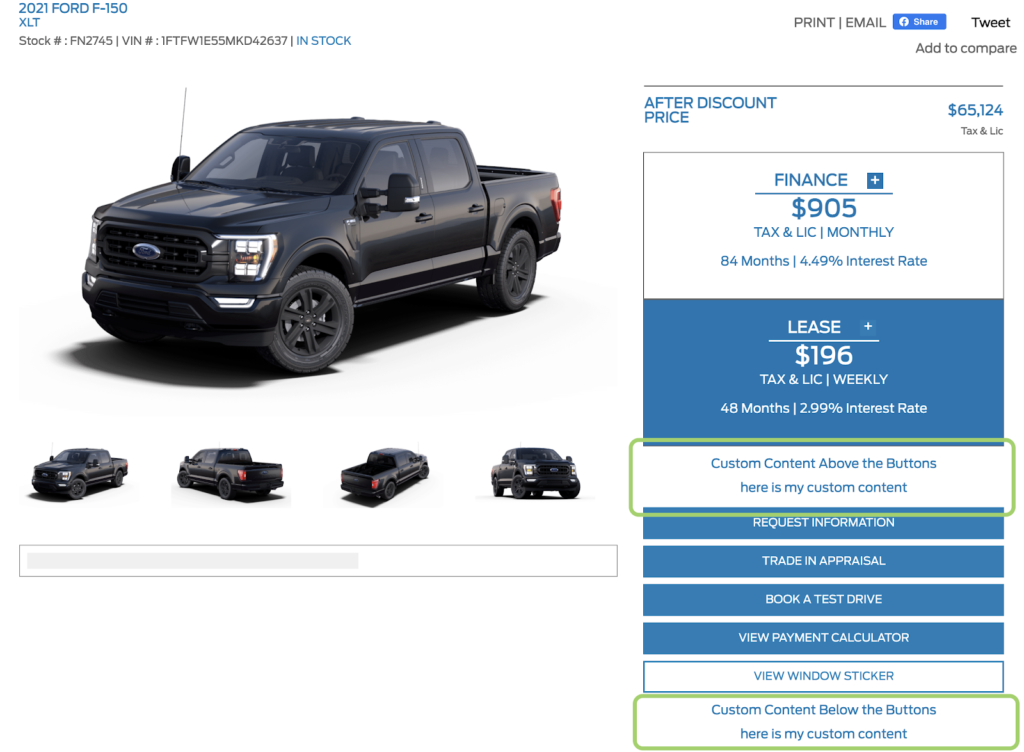 Beyond text content, dealers can various media including images, videos, a list of recent posts and much more.
Release Notes
Internal release notes can be found here:
https://docs.google.com/spreadsheets/d/1Vs0mCYfCQOuJo2ijgj8voeZC_jRaJQr_6zjvc_foJLY/edit#gid=0
Suggestions?
We'd love to get more suggestions. If you got suggestions you'd like to submit, please provide your feedback here:
www.leadboxhq.com/suggestions